Lentra is revolutionizing the BNPL landscape in India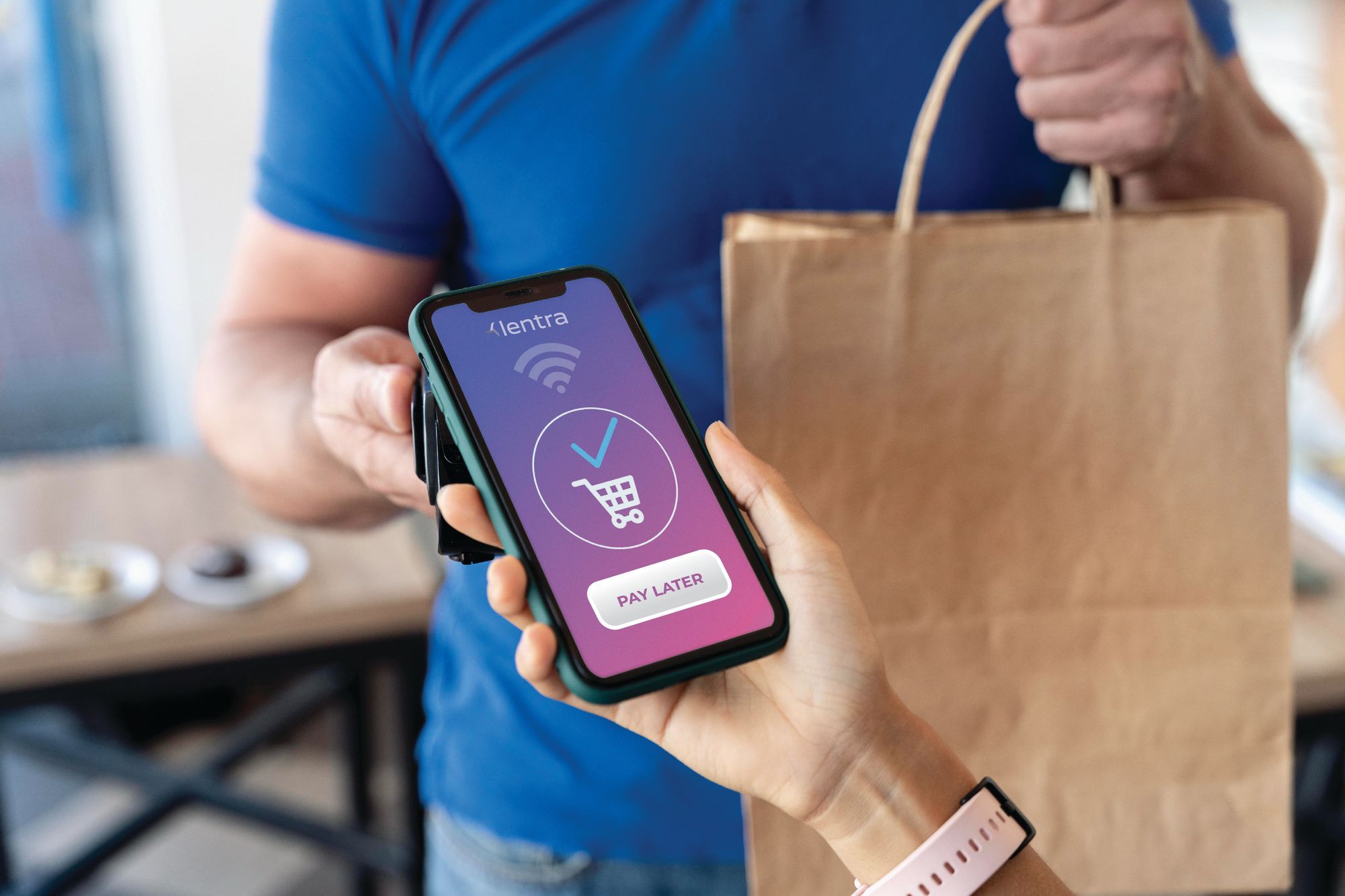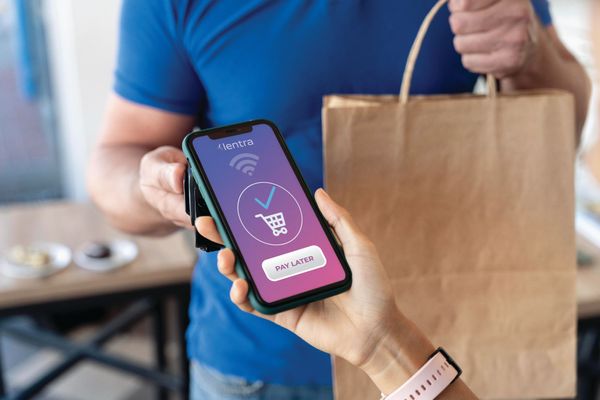 Sandeep is a hardworking freelancer. For a 23-year old who is just one year into the business, he is doing well for himself. He moved into a new city last month and lives on his own in a small rental apartment.
Sandeep wants to buy a new MacBook Pro, which he has been researching for a while now. The used laptop that his father got him during college is inadequate for the work he does today, a new one would cost him more than a lakh. An amount that is difficult for him to shell out in one go. He can't get a personal loan as he doesn't have any credit history.
Sandeep goes to an electronics store nearby, where he learns about the new Buy-Now-Pay-Later schemes. He discovers he could opt for a no-cost EMI plan for 12 months instead of shelling out the entire two lakhs. Seeing no-cost EMI options, Sandeep opts for a higher-end Macbook Pro with a total cost of 1.5 lakhs and goes for billing.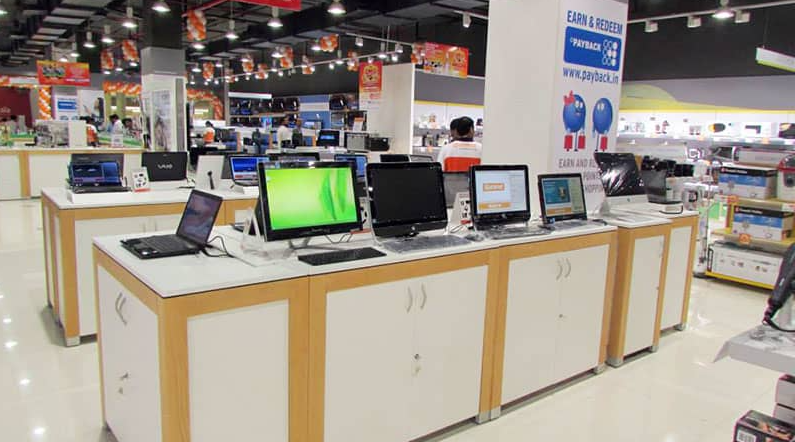 An electronics retail outlet in India
The POS machine at the counter connects to Lentra's BNPL system, which verifies his mobile number, PAN and Aadhaar. Lentra uses its vast set of API integrations across all levels of the financial system to find the credit worthiness of Sandeep.
It checks with the credit bureaus, runs an income estimator, does a fraud check and checks Sandeep's eligibility. The Lentra platform then uses an AI-ML based intelligent decision model to decide if Sandeep can be given this loan. The model follows the custom credit policies set by the lender at the other end.
This process keeps the risk of default to near zero for the lending company while being in line with their internal lending policies.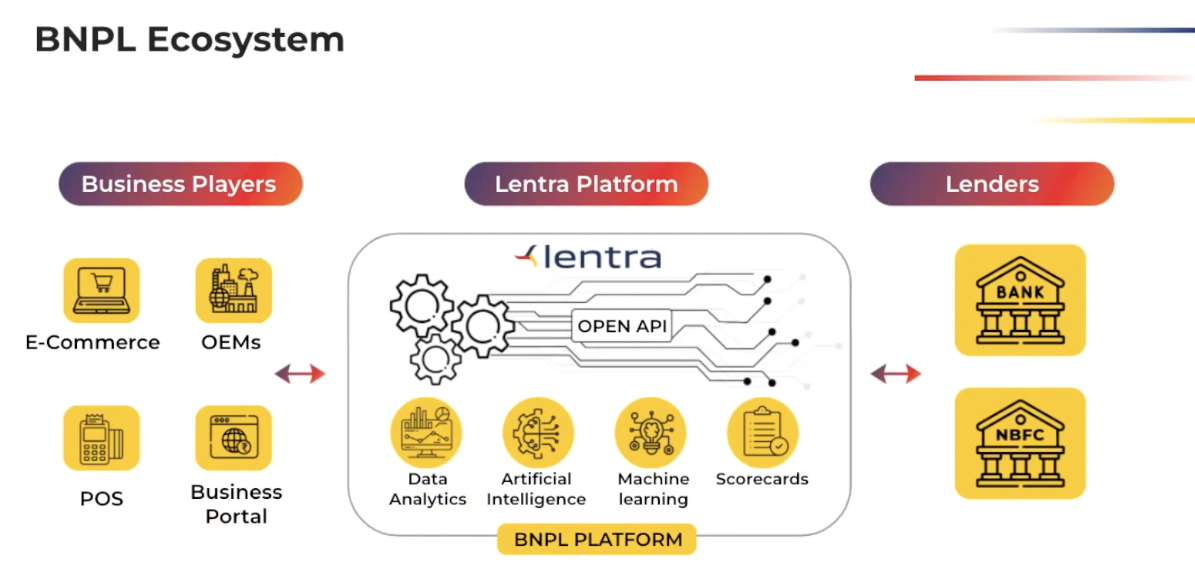 In less than 1 minute, a loan offer is made to Sandeep with no interest charged to him. Lentra then takes the e-mandate from Sandeep's bank to auto-debit EMI every month. In less than 30 mins, Sandeep walks away with a brand new laptop. He is now thinking of buying a few more essentials, such as a washing machine and a fridge, through the BNPL scheme.
Sandeep's productivity improved. He could do more in less time. He got a great deal on financing, which he would have otherwise never got without a credit history. The merchant was able to sell him a higher model than what Sandeep intended to buy. So they increased their sales numbers. The bank which financed the loan got a new young customer into their fold. They can now up-sell different products to Sandeep in future. Lentra and other fintech players played the intermediary to provide a seamless experience to Sandeep.
Digital lending - a million times over
Like Sandeep's experience, a Buy-Now-Pay-Later story plays out a million times every week in India. BNPL market is expected to grow at a CAGR of 56% for the next 8-9 years, and Lentra is leading the way in this digital lending revolution that is happening in India.
Here is a snapshot of Lentra's incredible stats for the last festive season.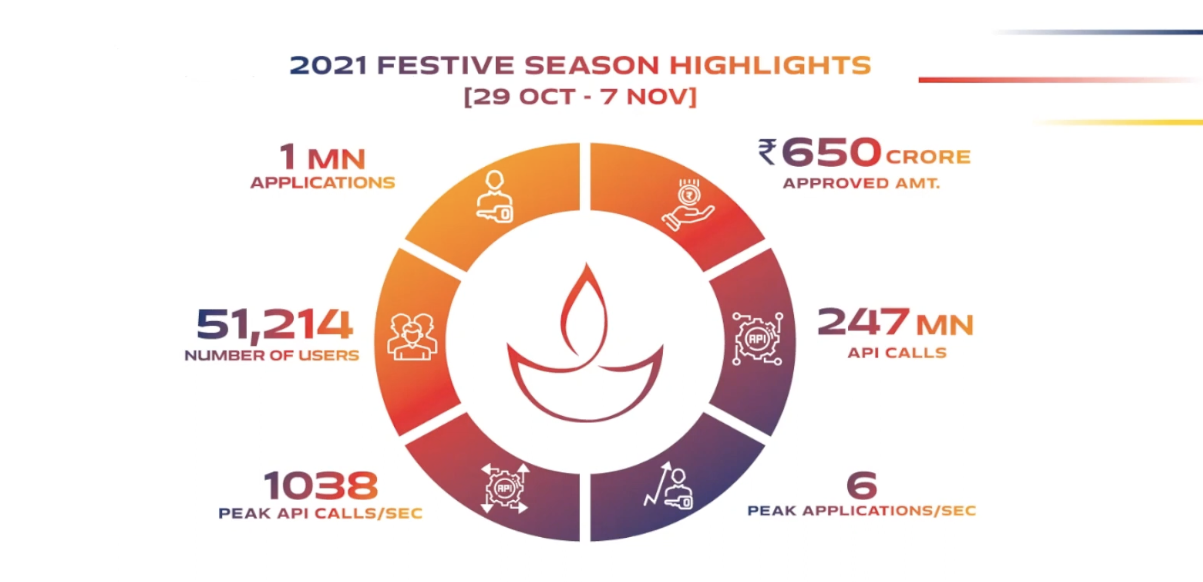 Lentra's GoNoGo is one of the popular decision making platforms for retail lending. The platform removes the need for tedious documentation and offers quick access to credit data for underwriting. Lentra's scalable, end-to-end and easy plug-and-play solution helps sellers and lenders to connect securely and reliably to provide BNPL solutions to consumers.
How Lentra makes BNPL work seamlessly
In the BNPL ecosystem, there are many players like Consumers, Sellers, Financiers, Govt. agencies, credit bureaus, business facilitators etc. Lentra is integrated into all these players using more than 240 APIs. This provides a unique, 360-degree coverage for Lentra in the financial ecosystem.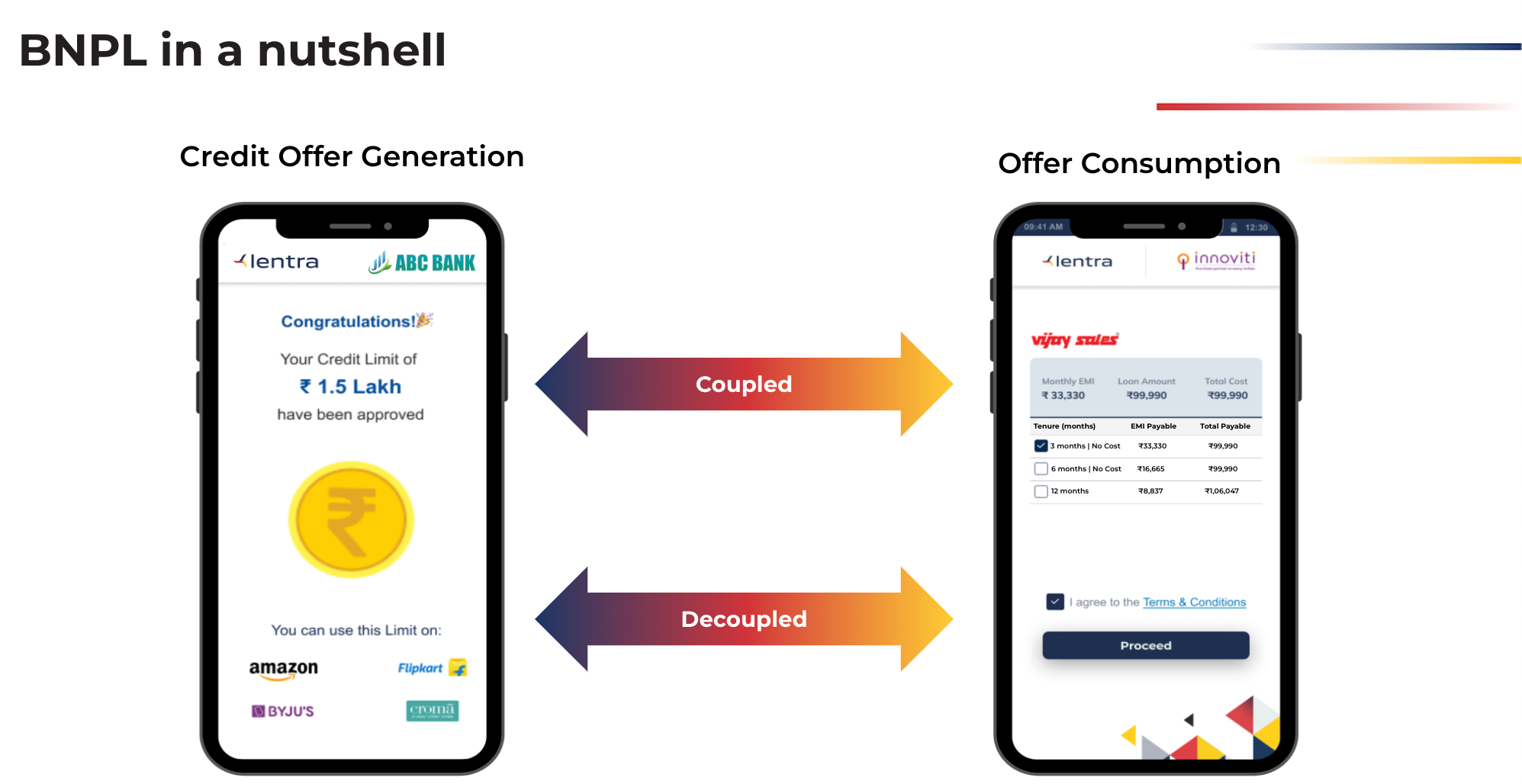 There are two parts to a BNPL process. The first part is Credit Offer Generation. In this, Lentra estimates the applicant's creditworthiness and authenticity by analysing various aspects of the applicant.
The process begins with Lentra's 4-pillar verification framework of the application. This helps ensure that the applicant will not default or defraud the lender. The four pillars are KYC, Contactability, Ability to pay and Intent to pay.
Lentra's comprehensive ecosystem of MultiBureau®, vKYC, BREX & Scorecard then verifies if the applicant has the ability and intent to pay back the loan. All of this happens in a few seconds.
Once the process is successfully completed and Lentra's AI/ML-based proprietary model approves the loan, it is offered to the consumer.
The second part, i.e. the Offer Consumption, can happen immediately or later when the consumer feels the need. The consumption can happen on any interface like an offline POS terminal or Agent-assisted sales counter, an eCommerce checkout page or even a self-serve online portal that the consumer has logged into.
Lentra's BNPL products
Lentra has a wide range of products that covers all aspects of a BNPL journey, from lead capturing to loan disbursement. The suite of products also allows businesses to create a customized modular platform based on their requirements.
For example, a product like FileX can help document management of a loan application, while a product like vKYC can help with quick and seamless customer verification. MultiBureau®  help in making credit enquiries about an applicant in a matter of a few milliseconds. Other products like GoNoGo and BREX can help lenders design custom credit policies and underwriting frameworks and make quick decisions on loan applications.
Benefits of using Lentra
Lentra's product portfolio and unique experience can provide massive advantages to lenders and loan demand partners.
From a lender's standpoint, it means they can quickly go to market with new products and test them. Since Lentra's ecosystem is deeply integrated with a wide variety of partners in the Indian lending space, it is easy for lenders to open new business channels and connect to new business players like merchants, POS providers or eCommerce platforms etc.
Lentra uses state-of-art encryption methods and industry-leading standards for data protection to provide a secure and stable platform for all partners to function. The 4-step verification process ensures a much lower risk of defaults for the lenders.
Leading the way
With impressive numbers to back, Lentra is already leading the way by being the platform of choice for India's BNPL offerings.
At Lentra, we empower lenders to democratise credit with end to end digital solutions fuelling dreams and ambitions across the globe.
To find out how Lentra can help you reach more consumers and make a mark in the growing BNPL market - Request a free demo from us.